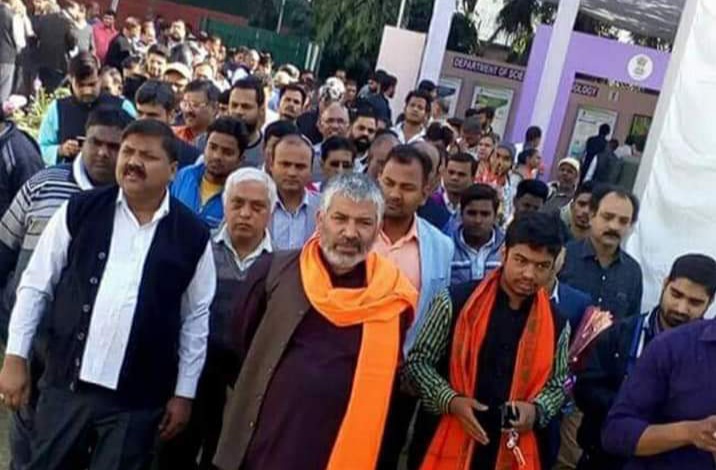 जन्मदिन विशेष में आई 2 अक्टूबर के जन्मदिन छन्हि दिल्ली-एनसीआर के एकटा वरिष्ठ समाजसेवी संगहि कर्मठ राजनेता , बुराड़ी के सुदामा के नाम सँ प्रसिद्ध श्री गोपाल झा।
गोपाल झा आई दिल्ली आ आसपास क्षेत्र के एकटा पहचानल नाम छथि संगहि अपन स्वभाव आ कार्यकुशलता संगहि अपन सेवाभाव लेल जानल जाई छथि। दिल्ली एनसीआर में मैथिल राजनेता में एकटा मजबूत पकड़ राखयवला गोपाल झा के जन्म एकटा मध्यम परिवार में 2 अक्टूबर 1969 ई. में देवघर में भेलनि जे आब झारखंड में अछि। पिता स्व. चन्द्रनाथ झा एकटा सामान्य किसान छलथि आ माता अम्बिका देवी गृहणी छलथिन्ह। माता-पिता के आशीर्वाद सँ सतत गरीब-मजबूर आ जरूरतमंद लोकनि के सहयोग हेतु सतत तत्पर रहयवला गोपाल झा एकटा जमीनी नेता छथि जिनक पहुँच घर-घर में छन्हि।
About Gopal Jha
Gopal Jha (born January 4, 1969) is an Indian politician who is a former candidate from Burari Vidhansabha Delhi 2015. He is master's degree in commerce with 71.05% marks in the session of 1987-89 .Gopal Jha came to delhi for studing CA meanwhile for the justice of interstate migrants people who is Dalit and poor and came for job purposes. Gopal jha was dropt CA for the purpose of helping of the migrants people like majdoor/dalit delhi as will as NCR. This way he started his political career in 1990 as a social worker with the help of NGO Prantiya Pravasi evam Dalit Vikas Manch in delhi. and he started work at Jhuggi Jhopadhi, Unauthorised colony and resettelment colony just like helping the people for making ration card, voter card, majdoor card any other facilities like electricity, water, police station, govt hospital and he is given the nara "jaha jhuggi waha makan" and for malikana hak of the resettlement colony and authorisation of unauthorised colonies with the help of senior majdoor leader and ex defence minister lates shree George Fernandes, Ex Prime minister Lates Shree V.P. Singh Ex chiefminister and senior BJP leader Lates shree Madan Lal Khurana, Central minister Shree Ram Vilas Paswan, Ex Cabinet minister Late Capt. J.N.P. Nishad and seniour BJP Leader Smt. Menka Sanjay Gandhi.
 
Mr Jha used to go Sakha of RSS Since 1990 in delhi and he was doing some help to the needy people that is fundamental agenda given by the Pt. Deen Dayal Upadhyay to BJP to insure the safety of last men of the society, that was doing by the Gopal Jha on that basis bjp giving the charge of President of Delhi Pradesh Jhuggi Jhopadhi in 2004. 
In between 2004 to 2008 Dr Harshvardhan ji  was the President of bjp delhi and honourable Shree Rajnath Singh ji was the national president of the BJP.
 
Shree Gopal Jha started to develop the bjp in poor area such as Jhuggi Jhopadhi and unauthorised colonies. Hundreds of Jansabha organised by gopal jha in this area with the help of Dr. Harshvardhan to develop the bjp. 5 big sabha organised by the gopal jha for joining of social worker/poor people and natonal president honourable shree Rajnath Singh, seniour bjp leader  Prof. Vijay kr. Malhotra, Mr. Vijay Goel were came as a guest to encourage the social worker as well as poor people who joined the bjp. Around 25000 people from various jhuggi jhopadhi and poor elaka came for joining the bjp at different place on different date, bjp won the seat of counciller election 2007 by getting 164 seats outof 272 seats it is much larger than 2003 where bjp won the seat 14 counciller outof 136 with the help of poor people and labour of  Mr Gopal Jha as a jhuggi jhopadhi president delhi.
 
 BJP. In 2012, he took up the role of Adhyaksh for Bhartiya Janta Majdur Mahasangh. His breakthrough happened in 2015 when he fought the Vidhan Sabha election under the banner of BJP from Burari Vidhansabha and secured second position in the constituency. He ranked ninth among all the candidates who fought the election on BJP's ticket.
Early Life and Education
Gopal Jha was born in a middle-class family in Deoghar District in the Santhal Parganas division of the state of Jharkhand, India on January 4, 1969. He has two son  Mr. Prabhakar Jha and Mr. Kumar Rahul. His father Late Mr Chandra Nath Jha, a farmer, and mother Ambika Jha, a homemaker, supported his dreams of pursuing philanthropy and human rights for underprivileged sections of the society. 
gopal Jha is a ground leader of delhi bjp and his wel doing for the society as well as for the country